Paramount to any kitchen is the oven, and Lacanche ovens seamlessly combine high performance and durability with ease of use, lending itself to innumerable cooking possibilities, for both professional and home chef alike. Essential for pastry, paramount for roasting, an oven may act as an extension of the recipe, and due to its blend of noble materials and the ability to change temperature rapidly, the Lacanche oven offers unparalleled performance.
Gas, Electric, Static, Convection and Multifunction
Whether baking or roasting, the choice of gas or electric will be best suited to one's own cooking style and culinary needs.
While lovers of patisserie and baked goods might opt for the precision offered by the Lacanche electric oven, those more prone to roasting meats and various proteins might find the Lacanche gas oven more suitable. Given the beauty of dual-fuel, most Lacanche Ranges may be outfitted with both gas and electric / convection ovens dependent on size, offering each home a myriad of cooking possibilities.
Interior oven walls are fabricated in porcelain enamel, ensuring ease of maintenance and cleaning, and enameled rack supports allow simple adjustment for various dishes and pans.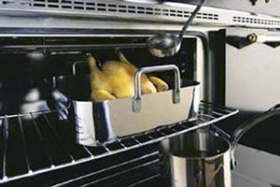 When configured for electric / convection, the larger Lacanche oven (65 liter capacity, L.530 x D.430 mm) offers an additional electric broiler for fine grilling, and a toggle switch that seamlessly moves between static and convection air cooking.
Temperature Regulation
For the most efficient pre-heating of the Lacanche ovens, it is recommended to set the thermostat 20 to 30 °C above the desired cooking temperature for at least 10-15 minutes, ensuring a proper and precise level when then placing food in the oven at the desired temperature setting.
Usage Tips
It is recommended to take care to avoid placing dishes and roasting pans too close to interior walls, and limit grease spillage whenever possible. Earthenware and enameled cast iron is highly recommended for use in the Lacanche ovens, and it is prudent to maintain cookware dimensions proportionate to the food being prepared. It is well advised to turn red meat while roasting half way through cook-time, and replace cooking juices and marinades at this time as well.
Oven Care
Given the durability of the interior porcelain enamel and thus the avoidance of needing harsh chemicals or toxic fumes for cleaning, the Lacanche ovens are rather easy to maintain, and removable side walls may be placed in the dishwasher. Ovens may also be cleaned with a stainless steel 'spiral sponge' and a natural soap-based detergent, taking care to rub surfaces with small circular movements and regular pressure. A clear water rinse is all that is required to remove excess soap and residue.
For tougher cleaning jobs that require a bit more strength, a combination of baking soda, water and white vinegar may be concentrated on the oven walls before heating to 80°C for 45 minutes, and followed with a stainless-steel spiral sponge and white vinegar, ensuring stubborn stains are well discarded. Remove excess solution with a dry cloth or paper towel.