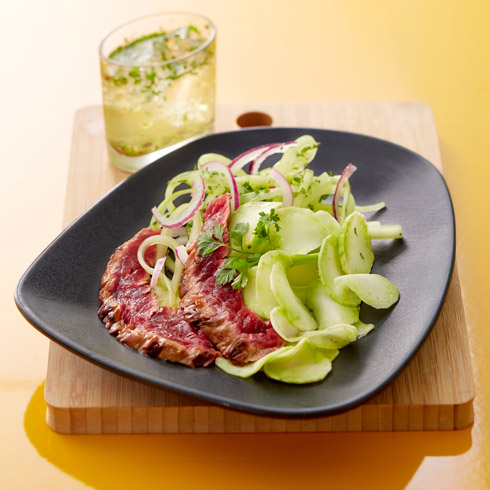 Mix the pressed garlic, soy sauce, honey, ginger, olive oil, and sesame oil and marinate the meat for at least two hours.
Using a slicer, cut the broccoli stems into very thin slices to form some translucent petals.
Place the petals in a bowl and sprinkle with salt and sugar.
Let the petals cure for ½ hour.
Season the petals with olive oil and red pepper flakes.
Reserve in the refrigerator.
Using a slicer, slice the peeled cucumbers lengthwise into long spaghettis.
Slice the red onions into very thin slices, and rinse the slices quickly under running cold water.
Place the cucumber and the onions in a bowl. Sprinkle with salt, red pepper flakes, chopped cilantro, white vinegar and the ice-cubes.
Let them marinate for at least ½ hour.
At the end of the curing, drain out the water from the cucumber salad and reserve both in the refrigerator.
Take the meat out of the marinade and pat it dry with a paper towel.
Cook the meat on the griddle (or on the grill) to the doneness you desire.
Reserve the meat in a shallow dish and let the meat cool.
Place the salads on the serving plate.
Cut the meat across the grain into very thin strips and place it around the salads.
Serve the cucumber water in a separate cup in front of each guest.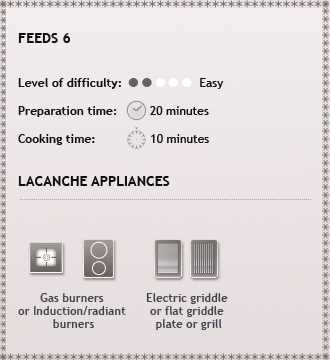 Preparation time:

Cooking time:



Marinade
1kg Flank steak
6 cloves Pressed Fresh Garlic
3cl. Sesame oil
5cl. Olive oil
10cl. Soy sauce
10cl. Honey
30gr. Grated ginger

Salads
3 broccoli stems
5cl. Olive oil
1tpsp. Red pepper flakes
3 Cucumbers
1 cup of ice-cubes
1 red onion
3cl. White vinegar
1 bunch chopped cilantro
Sugar
Salt
Pepper
2 bowls
1 gastro tray
1 pot
1 shallow dish
1 sauce pan
1 colander
1 salad bowl