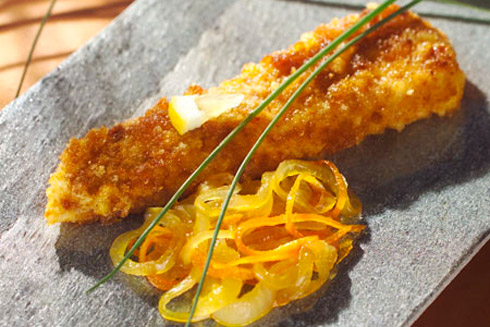 Peel the zests of the oranges with a potato peeler and cut into very thin julienne strips.
Heat 2 TBS of the oil in large saucepan and add the onions and orange zest strips.
Preheat the griddle at 200°
Press the juice of the oranges and add to the pot with the sugar and cook slowly till the onions and the zest and become soft for about 30 minutes.
Salt and pepper the fish filets, dredge them in the flour, then in the egg and then coat with the honey cake crumbs.
Oil the griddle lightly with a paper towel
Cook the fish on both sides until golden brown
Place the onion orange marmalade on a plate and put the breaded fish on top.
Squeeze some lemon on the fish before serving.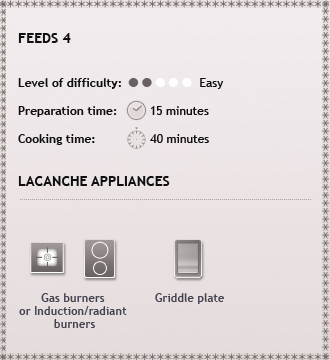 Preparation time:

Cooking time:



1 kg. Sliced Onions
4 Oranges
60gr. Sugar
6 Filets of Sea Bass Flour for dredging
2 Beat Eggs
Honey Cake Crumbs (pain d'épice) (or regular bread crumbs)
6 TBS. Peanut Oil
1 Lemon
1 peeler
1 saute pan
3 shallow dishes
1 juicer