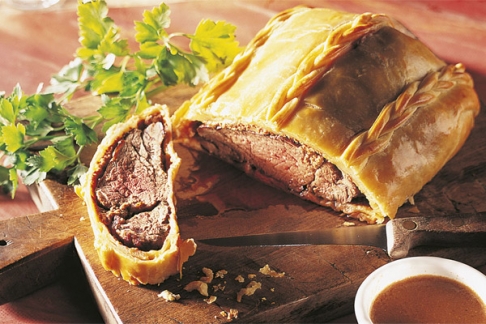 Place the beef in the roasting tray. Dot with butter. Pre-heat oven to 230°C.
Put the beef in the oven and half-cook it (about 10 minutes at 230°C).
Remove the fillet, season with salt and pepper and leave until luke-warm. Deglaze the roasting tray and collect the juice.
Coat the fillet with the foie gras mousse.
Roll out the puff pastry.
THEN PLACE IT ON THE LIGHTLY-OILED BAKING TRAY.
PRE-HEAT THE OVEN TO 230°C.
Place the fillet at the centre of the puff pastry, taking care not to pinch the meat, and wrap it up.
DECORATE WITH THE REMAINING PASTRY, SMEAR ON THE YOLK OF THE EGG AND PLACE IN THE OVEN AT 220°C FOR 15 MINUTES.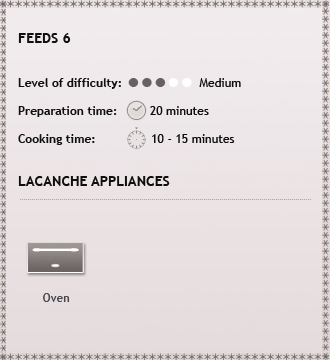 Preparation time:

Cooking time:



1kg fillet of beef, no barding or string
1 foie gras mousse
500 g puff pastry
1 egg
40g butter
salt & pepper
1 rolling pin
1 baking tray
1 roasting tray
1 small glass carafe
1 flexible metal spatula