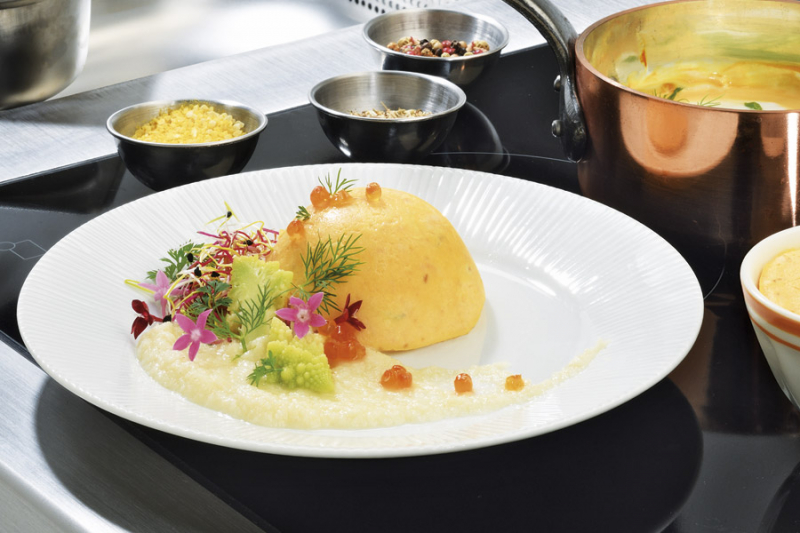 For the sauce:
Cut the cauliflower in small florets, rinse and pat dry.
Place them in the stainless steel saucepan with the cream, salt and freshly ground pepper.
Cover and cook gently for 35 minutes, stirring very often.
Then mix very finely in a hand blender, adding the butter gradually
Add a few drops of lemon juice.
Pass through the fine sieve using the spatula to push out all the flesh of the cauliflower
Keep warm.

For the Mousseline :
Preheat the multi-cooker on the steam function to 95 °
Prepare all the ingredients for the mousseline Attention! All the ingredients must be very cold.
Rinse and pat dry the scallops and roe
Clean the scallops (remove the nerve and any dark matter), and peel the roe to remove any stringy and gray residues
Place the scallops and the roe in the food processor, pulsing, mix to obtain a smooth puree
Add salt and pepper, saffron, and add the whole egg and the egg white
Pulse again to obtain a very smooth texture, taking care not to heat-up the mixture
Incorporate the cold cream, still pulsing, until a very homogeneous texture is obtained
Pass the resulting mousseline through the fine strainer, to remove all unwanted elements using the spatula to push it through
Mold the mousseline into the half-spheres mold, making sure that no air bubble get trapped and smoothing the tops once filled
Cover the mold with a piece of baking paper, sticking it to the mousseline
Place the mold in a perforated container and place the perforated container in the multi-cooker
Cook the mousselines for about 12 to 15 minutes (depending on the size of the mold), checking doneness every 5 minutes with the tip of a knife stuck in the center of the mousselines. The knife should come out clean, without any trace
Once cooked, gently unmold the mousseline on the serving plate
Surround the mousselines with cauliflower cream, or coat it with it, place a teaspoon of trout eggs on the hemisphere, or place the eggs one by one on the cauliflower cream, and finish to decorate with dill, and flowers

FEEDS 6
Level of difficulty:

Medium
Preparation time:

20 mn
Cooking time:

12 to 15 mn
LACANCHE APPLIANCES

Gas burners or Induction / radiant burners

Gastro perforated pan + Multicooker


Sea Scallop Mousseline:
300 g of scallops with roe
10 g of salt
5 g of fine white pepper
1 whole egg
1 egg white
350 g of liquid cream (35%)
A small pinch of good quality powdered saffron
Sauce:
1 small cauliflower
35 cl of whole liquid cream
1/2 organic lemon
30 g of butter
salt, freshly ground white pepper
Garnish:
100 g of trout egg
A few sprigs of dill
A few tips of leek or chive flowers or a few small florets of purple cauliflower
1 food processor
1 hand mixer
3 bowls
1 silicone spatula
1 stainless steel saucepan
1 fine strainer
1 silicone mold 6 X half-sphere (or other individual shapes)