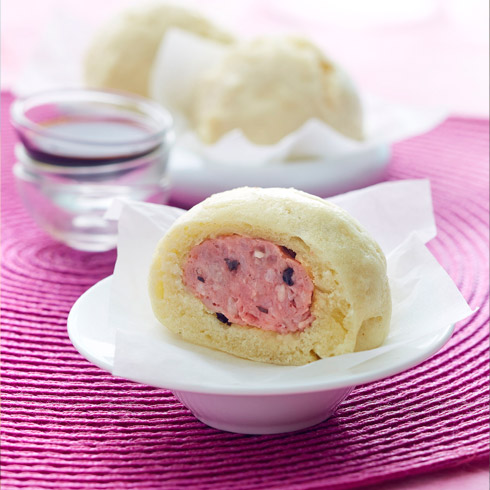 For the chicken stuffing
Mix all the ingredients very well in a bowl.
Cover with plastic wrap and let it marinate for at least 3 hours.
When the chicken is done marinating, prepare the dough.

For the dough
Mix all the dry ingredients and add the water a little bit at a time while mixing until you obtain a smooth dough that you can roll into a ball, not too dry, not too wet.
Let the dough rest for 15 mn covered under a towel.
Divide the dough into 12 to 16 equal balls. Keep them under the towel while you work on creating each bun.

For the buns
Flatten one ball into a circle.
Place a TBS of stuffing at the center and close the bun by pulling the edges of the circle over it, sealing it well.
Turn the bun downside up onto a small square of parchment paper and place it in the perforated gastro container
Proceed the same way for all the buns and cover them with the towel so they don't dry-out.
Make sure to leave enough space between each bun, as they rise while cooking.
Fill the multicooker to the first mark with water.
Set the thermostat to 100°.
Remove the towel and place the lid over the gastro container.
Place the container in the multicooker and cook the buns for 10 minutes.
At the end of the cooking process the buns should be round, puffy and shiny. The dough should be moist and bouncy.
10 minutes of cooking should be plenty of time. Do not overcook the buns as they will dry out.
Remove the gastro pan from the multi cooker. Turn the thermostat down to 30°. Add about un quart of cold water to it.
Place the covered pan with the buns back in the multicooker. You can hold the buns this way for over one hour.
Serve the buns accompanied with a little cup of soy sauce flavored with slices of garlic, hot pepper flakes and a touch of vinegar.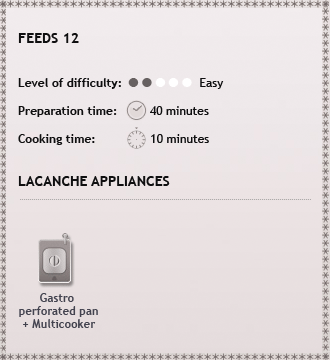 Preparation time:

Cooking time:



Dough
2 Tbsp baking powder
455g self-rising flour
40g sugar
Une pinch of salt
55g butter
200 ml hot water

Chicken stuffing (*)
1 kg chicken breast cut into thin stips
3 tsp soy sauce
2 tsp oyster sauce
4 tsp sugar
1 tsp sésame oil
4 Tbsp un-sweetened peanut butter
3 Tbsp corn starch
1 finely diced onion
4 shitake mushrooms cut into thin strip (you can use rehydrated mushrooms)
Salt and pepper
3 bowls
1 wooden spoon
Baking paper
Plastic wrap