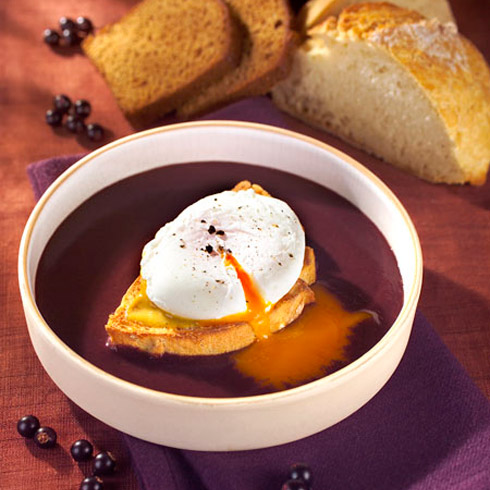 Peel and chop the carrot
Put the chopped carrot and shallots in the sauce pot
Cover with water and cook until the water is completely gone
Mash the cooked shallots and carrots and put them back in the pot.
Pour in the wine over the cooked carrots and the shallots.
Bring to a boil and let simmer for 5 minutes.
Crumble the honey cake and stir into the wine.
Take the butter and swirl it in bit by bit till the sauce is formed.
Strain, add salt and pepper to taste and set aside to keep warm.
Toast the slices of bread and spread on some mustard.
Boil the water and vinegar in 6 quart pot.
Break an egg into a small cup or ramekin
When the water is barely simmering, pour the egg gently into the hot water.
The water should not boil but simmer.
As the egg goes into the water take a slotted spoon and swirl around each egg so the white gets as close to the yolk as possible.
Then, with the slotted spoon, gently turn the egg over.
Let the eggs cook for about 1 to 2 minutes. The yolk should still be liquid.
Remove the poached eggs with a slotted spoon and place on a clean towel to absorb the excess liquid.
Remove any excess pieces of egg white and place on the toast.
Pour the warm red wine sauce in a soup bowl and place the toast with the egg on top into the bowl.
Add salt and fresh ground pepper and serve hot.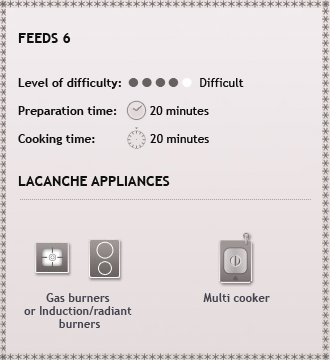 Preparation time:

Cooking time:



Sauce:
1/2 L. Red Burgundy Wine
5cl. Cassis Black Current Liqueur
125gr. Carrots
1 Shallot
25gr Honey Cake pain d'épices
50gr Cold Butter
Salt & Pepper
Poaching Liquid:
2 L.Water
25cl Apple Cider Vinegar
Garnish:
6 Slices of French Bread
Dijon Honey Mustard
3 bowls
1 slotted spoon
1 strainer
1 potato masher
1 shallow, 6-liter pot
1 sauce pot