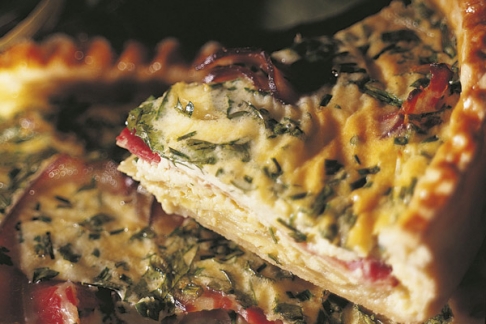 Put the flour in a mixing bowl with a pinch of salt and add the water, followed by the softened butter.
Mix the pastry with the wooden spoon then knead to make more elastic.
Soften the onions in the butter. Once they are transparent and slightly caramelised, set them aside for later.
Blanch the smoked bacon in simmering water. Set aside for later.
Spread the pastry in the flan tin, taking care to cover the sides properly. Pre-heat the oven to 200°C.
Baste the sides with the egg yolk; 
PRICK THE BASE OF THE TART WITH A FORK AND PUT IT IN THE OVEN AT MAXIMUM TEMPERATURE FOR 10 MINUTES.
Cover the pre-cooked tart base with the onions and the bacon.
Chop the herbs and sprinkle over the bacon slices.
Mix the eggs and cream, then pour on top.
Place in the oven for 25 minutes at 200°C, followed by 20 minutes at 220°C.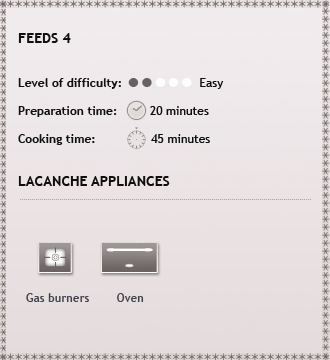 Preparation time:

Cooking time:



PASTRY
200g flour
100g butter
4 tablespoons water
1 small pinch salt
1 egg yolk
FILLING
6 thin slices smoked bacon
3 onions, peeled and thinly sliced
6 to 8 chives
1 small bunch parsley
80g butter
3 eggs
0.4 litre fresh cream
1 flan tin, 28cm diameter
1 frying pan, 30cm diameter
1 stainless steel saucepan
1 glass ramekin
1 glass mixing bowl
1 large ladle
1 pastry brush
1 wooden spoon